Recreation
Because of its impact on residents' quality of life, as well as the economy, the provision of safe, adequate recreation opportunities is an important community role.

Community Recreation Plan Development & Approvals
Eligibility for grants through the State of Michigan's Natural Resources Trust Fund starts with a well crafted Recreation Plan that meets each of the criteria for the Department of Natural Resources 5-Year Recreation Plan requirements. Outside of State requirements, Recreation Plans should be viewed as essential to any community that wishes to develop recreational assets that meet public need, leverage available natural resources while laying the framework for efficient use of funds for development and maintenance of sites. Networks Northwest's Community Development Department has displayed a proven track record for Recreation Plan development and approval, with recent examples of the City of Frankfort and Bear Creek Township currently moving through local and State adoption and approval processes. The Community Development Department is available to provide recreation plan development services for communities within our region, and inquiries may be directed to our Regional Director of Community Development, Robert Carson.
Contact Form
A Framework for Recreation in Northwest Michigan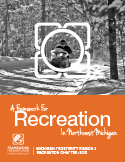 Developed as part of the Framework for Our Future: A Regional Prosperity Plan for Northwest Michigan, it includes information that can serve as a compilation of best practices to help local decisionmakers and stakeholders who would like to address the issues identified in the Framework to meet their communities' recreation needs.
A Framework for Recreation in Northwest Michigan


Non-motorized Road and Trail Map Guide
This initiative is a statewide project created and funded by Michigan Department of Transportation (MDOT). Its purpose is to inventory and map bike routes and non-motorized recreational trails. Networks Northwest inventoried and mapped the 13 counties from the western side of MDOT's North Region.
The following PDFs are available for viewing online. For hard copy maps, please contact Networks Northwest at 231.929.5000.
Northern Counties (Emmet, Charlevoix, Antrim, Kalkaska, Grand Traverse, Leelanau, Benzie)
Southern Counties (Manistee, Wexford, Missaukee, Mason, Lake, Osceola)
Up North Trails
Northern Lower Michigan is a true trails destination with over 5,300 miles of trails! Whether you are a hiker, bicyclist, skier, horseback rider, ORVer, or snowmobiler, thousands of miles of trails await discovery Up North. Our vast network of trails is just a click away. Discover trails that suit your needs, read about the trail systems, view photos, and click on trail segments to find out even more. Don't forget to light up Points of Interest and Nearby Trails to discover amazing things to see and do around your chosen trail. Find out more at UpNorthTrails.org.
Lake Michigan Water Trail
Northwest Michigan Works! is an essential resource for employers and job seekers in the Northern Michigan area.
- Kathy Stuart, Michigan Rubber Products Human Resource Manager