Growth & Investment
Communities in northern Michigan continue to grapple with growth and development issues. Networks Northwest develops tools that assist communities in local decision-making and offers technical assistance to local governments and non-profit agencies working on community planning and development issues.
2021 Comprehensive Economic Development Strategy (CEDS)

As part of our work with the Economic Development Administration (EDA), Networks Northwest updates the Comprehensive Economic Development Strategy (CEDS) every five years. A CEDS is a strategy-driven plan for regional economic development and is the result of a regionally owned planning process designed to build capacity and guide the economic prosperity and resilience of an area or region. The 2021 CEDS Document and accompanying appendices can be accessed by clicking on the links below.
For more information about the region's economic development strategy, please contact Robert Carson, Regional Director of Community Development, at 231.929.5057.

2021 CEDS
Appendix A Task Force Development CEDS Process
Appendix D Inflow _ Outflow of Wages and Employees
Appendix F Shift-Share Analysis
Appendix H SWOT Analysis Results
---
A Framework for Growth & investment in Northwest Michigan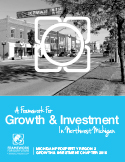 Developed as part of the Framework for Our Future: A Regional Prosperity Plan for Northwest Michigan, it includes information that can serve as a compilation of best practices to help local decisionmakers and stakeholders who would like to address the issues identified in the Framework to meet their communities' diverse growth and investment needs.
A Framework for Growth & Investment in Northwest Michigan
Thrive north
ThriveNorth.org was created to be an easy-to-use resource catering to those interested in economic development in Northwest Lower Michigan. The website contains everything from community and regional economic data, growth and investment information, knowledge of Economic Development Administration (EDA) programs, to help with a local planning commission permitting process. The website is streamlined for use by active real estate investors, developers, business owners and entrepreneurs. ThriveNorth.org serves the ten-county region of Antrim, Benzie, Charlevoix, Emmet, Grand Traverse, Kalkaska, Leelanau, Manistee, Missaukee and Wexford counties.
Economic Development Projects
Networks Northwest maintains and updates the Comprehensive Economic Development Strategy (CEDS) for the Northwest Michigan ten county region. The CEDS provides a comprehensive approach to Economic Development Planning which includes the setting of goals and strategies for our region. Our CEDS, which is submitted to the Department of Commerce - Economic Development Administration (EDA) on a scheduled basis with required 5 year updates, includes these goals and strategies as supportive evidence for grant application processes to EDA.
Entities which are eligible for EDA notice of funding opportunities "grants" must have their project supported by a goal and strategy within the region's CEDS for the coming year. Having a project supported within the CEDS doesn't constitute an application nor is it an assurance of funding, but it is a prerequisite for the consideration of funding through EDA. Networks Northwest Staff are happy to speak with eligible entities in regard to funding opportunities and provide support through a letter of consistency which is required to accompany grant applications to EDA.
For more information, please contact:
Rob Carson, Networks Northwest Contact Form
Region 2 CDC
The Region 2 Collaborative Development Council is made up of local economic developers, planners, workforce agencies and a variety of other stakeholders from the 10 counties across northwest lower Michigan which make up Region 2 of the Michigan Economic Development Corporation's (MEDC) Collaborative Development Council. In addition to local stakeholders, state departments such as MDOT, MDARD, and MDNR are represented. This group is convened and represented by the Northwest Michigan Council of Governments at monthly MEDC CDC meetings.
Map of Michigan's Collaborative Development Councils (CDCs) can be found at: https://www.michiganbusiness.org/49aac5/globalassets/documents/reports/maps/edc-map.pdf
Recent activities of the MEDC's CDC can be found at: https://www.michiganbusiness.org/services/partners/cdc-documents/
The Region 2 CDC Full Group meets on a quarterly basis. The Region 2 CDC Leadership Group meets monthly, along with MEDC staff, and is comprised of executives from the following agencies:
Alliance for Economic Success
Northwest Michigan Works!
Venture North
Northern Lakes Economic Alliance
Networks Northwest
For more information regarding the CDC Leadership Group
or the CDC Full Group, please contact: Matt McCauley, Networks Northwest Contact Form
Placemaking in Northern Michigan
Placemaking is a community-based approach involving the discovery and implementation of practices that make our communities distinctive, economically viable, accessible, and visually pleasing. Placemaking capitalizes on a local community's assets, inspiration and potential, creating good public spaces that promote people's health, happiness, and economic well-being.
Guidebook
The Community Placemaking Guidebook is designed to empower local citizens and unique collaborative groups in communities across northwest lower Michigan with the community pride and Placemaking toolkit that offers critical approaches to creating and managing successful public spaces. The level of a community's local pride plays a significant role in the quality and maintenance of local places, an overall sense of place and identity, and ultimately economic prosperity in the global economy.
Our Township greatly benefits from Network Northwest's experience, depth of knowledge and understanding. Because they work with so many diverse communities in our ten-county region they understand the local land-use issues and are already working on solutions by the time we realize we need some help.
- Susan Odom, Chair, Suttons Bay Township Planning Commission