Food & Farming
Food and farming are cornerstones of Northwest Michigan's economy and quality of life. For rural communities and local governments working to support their local farming economy, there are a number of tools available to help address needs related to agricultural land and production.

A Framework for food and farming in Northwest Michigan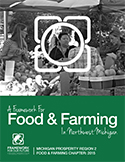 Developed as part of the Framework for Our Future: A Regional Prosperity Plan for Northwest Michigan, it includes information that can serve as a compilation of best practices to help local decisionmakers and stakeholders who would like to address the issues identified in the Framework to meet their communities' agricultural needs.
A Framework for Food & Farming in Northwest Michigan (PDF)
10 Cents a Meal
The 10 Cents a Meal for School Kids and Farms is a state pilot program that provides schools with up to 10 cents per meal in match funding to purchase and serve Michigan-grown fruites, vegetables, and legumes. Healthy kids and thriving farms are the goals of the program.
2018-2019 grantees spanned 5 of Michigan's Prosperity Regions (Regions 2, 4, 6, 8, & 9), 27 counties, and 57 school districts serving 134,036 students. See how Region 2 participated, and other region-specific information, in the 2018-2019 Legslative Report here.
Find out more about the 10 Cents a Meal program along with tools and information for how to engage and connect with schools, communities, farmers, and more at www.tencentsmichigan.org.
Food Innovation Districts
A food innovation district is a geographic concentration of food-oriented business, services, and community activities that are supported locally through planning and economic development initiatives. These districts can promote positive business environments, spur regional food system development, and increase access to local food.
Guidebook: With funding from USDA-Rural Development, the Northwest Michigan Council of Governments (now Networks Northwest) and the Michigan State University (MSU) Center for Regional Food Systems worked together with project partners Regional Food Solutions Inc, practicum students from Michigan State University, and stakeholders throughout Michigan to prepare Food Innovation Districts: An Economic Gardening Tool that communities nationwide can use to establish and encourage food innovation districts.
Click here for more information on Food Innovation Districts.


Northwest MI Food and Farm 20/20 Fund
The Northwest MI Food and Farm 20/20 Fund offers farm businesses a continuum of financing tools and products offered by regional lenders through a one-stop application process and financing options and resource support tailored to the business stage and scale
Financing Options include:
Agriculture Individual Development Accounts
A matched savings incentive program for eligible farmers used toward building farm assets.
GT Area Chamber Loan Fund
The GT Area Chamber loan fund is available to meet gap financing, with flexible/tailored debt financing features, and a turn around time to meet the financing needs of new and beginning farmers.
Northern Initiatives
Northern Initiatives is a community development corporation whose goal is financing businesses that generate community based economic development.
Honor Bank
Honor Bank is a community bank that wants to make sure that farm businesses are included in their business-lending portfolio.
American Farmland Trust (AFT)
A loan fund generated by proceeds from the sale of a large Michigan farm, debt capital must be used by eligible farmer to lease or purchase farmland that may otherwise be in jeopardy of development.
Eligibility Information:
Matched savings program: Agriculture Individual Development Accounts (see attached description)
Debt capital: Loans (more information is available)

Contact and Information:
The Capital Review Committee meets the first Monday of each month to review all loan applications and other requests.
For more information contact: Rob Carson, Contact Form or 231-929-5000.
Northwest Michigan Works! is an essential resource for employers and job seekers in the Northern Michigan area.
- Kathy Stuart, Michigan Rubber Products Human Resource Manager