About Us

OUR MISSION
Networks Northwest, formerly Northwest Michigan Council of Governments, is a regional organization serving businesses, non-profits, community organizations, individuals, and units of government. Our mission is to build stronger communities and enhance the quality of life in Northwest Michigan.

OUR HALLMARKS
Our hallmarks are public-private partnership, visionary leadership, responsiveness and adaptability, entrepreneurship, and economy of scale.

OUR VALUES
Excellence

Demonstrate sincere effort, expertise, purpose,
and skillful execution.

Integrity

Be honest, respectful, fair and open-minded,
even when no one is looking.

Empowerment

Provide others the tools, resources, opportunities
and motivation to move in positive directions.

Innovation

Foster and apply imaginative, inventive approaches
that make a positive impact.

Optimism
Lead with confidence, promote strengths,
and view barriers as opportunities.
Collaboration

Build and strengthen relationships to share ideas,
leverage capabilities and maximize resources.

Celebration
Recognize accomplishments and embrace
an enjoyable work culture.

WE SERVE
Businesses, community organizations, individuals, units of government, and regional or sub-regional topical networks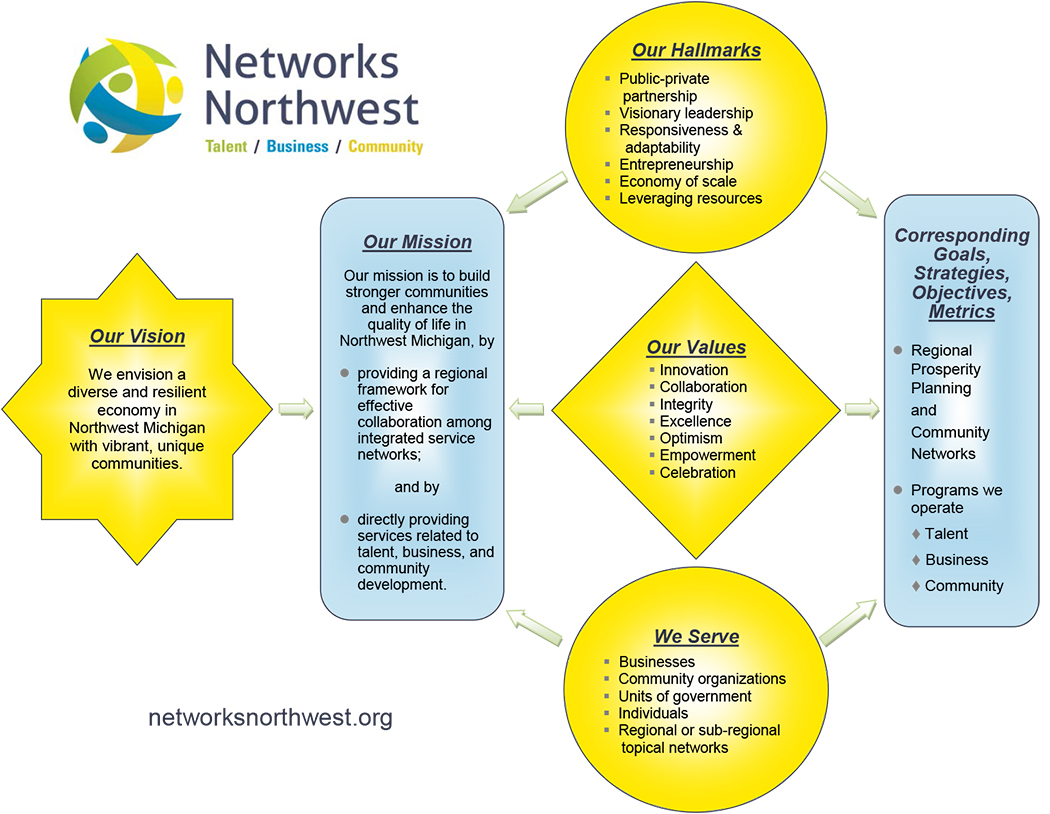 About Networks Northwest
Founded in 1974, Networks Northwest facilitates and manages various programs and services for the ten county region. These programs include Northwest Michigan Works, YouthBuild, Small Business Development Center, Procurement Technical Assistance Center, various business services, and many different regional planning initiatives in response to our communities' requests and needs. You will see the broad spectrum of workforce, business and community services Networks Northwest offers as you look through our web site.
Networks Northwest's member counties are: Antrim, Benzie, Charlevoix, Emmet, Grand Traverse, Kalkaska, Leelanau, Manistee, Missaukee, and Wexford.
Hours & Days of Operation
Networks Northwest is open 8:00 AM - 5:00 PM every day except Saturday, Sunday, and the following holidays:
•Day before New Years
•New Years Day
•Presidents Day
•Memorial Day
•Independence Day
•Labor Day
•Veterans Day
•Thanksgiving
•Day after Thanksgiving
•Day before Christmas
•Christmas Day

(Note: If the holiday falls on a Saturday, Networks Northwest will be closed the preceding Friday. If the holiday falls on a Sunday, Networks Northwest will be closed the following Monday.)
Physical address:
600 East Front Street, Suite 104,
Traverse City, MI 49686-4330
Our mailing address is:
Networks Northwest
PO Box 506
Traverse City, MI 49685-0506
Telephone and FAX:
Phone toll-free at 1-800-692-7774
Local Traverse City telephone (231) 929-5000
Fax: (231) 929-5012
Website:
Map: