This Week: Michigan Careers in Energy Week Oct. 13-19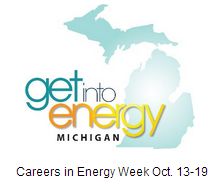 Gov. Rick Snyder has proclaimed Oct. 13-19 as Careers in Energy Week in Michigan as a way to raise public awareness of careers in the energy field and recruit talent for the energy workforce of the future.
"As Michigan's economy continues to improve, there is an increasing demand in many energy-related businesses for a skilled workforce to meet their growing needs," Snyder said. "We want all Michiganders to recognize the importance of the energy industry to our economy and the rewarding, well-paying careers that support it."
With this proclamation, Michigan joins several other states in a concerted nationwide effort led by the Michigan Workforce Development Agency (WDA), the Michigan Energy Workforce Development Consortium (MEWDC), and the Center for Energy Workforce Development to increase the public's awareness about energy careers. Annual job opportunities in Michigan range from line workers to power plant operators, customer service representatives to accountants, technicians to engineers, and more.
"There are so many opportunities in Michigan for great jobs, but many people aren't aware of the multitude of career opportunities in the energy industry," said Michigan Workforce Development Agency Director Christine Quinn. "Michigan's energy sector is in the process of undergoing a transformation that will lead to cleaner technology and even more job creation. We need to reach all ages and pique the interest and awareness across the state through this campaign."
The MEWDC, an industry partnership of 30 organizations led by Consumers Energy and DTE Energy, is celebrating its first formally proclaimed Careers in Energy Week in 2014. The consortium's activities this fall will include:
Reaching out to 32,000 elementary and secondary school students to talk about the industry, safety, and energy efficiency as well as distribute energy efficiency kits.
Recruiting from at least 13 colleges, looking for the best and brightest talent.
Launching a website, www.getintoenergy.com/Michigan, during Careers in Energy Week.
The website serves as a career discovery tool for individuals looking to enter the energy industry, keep the public informed about of energy industry data, and serve as a clearinghouse for consortium information.
As Michigan's two largest utilities and the co-chairs of MEWDC, Consumers Energy and DTE Energy combine to employ 17,000 people and hire about 1,200 new employees across the state each year. In addition, the companies also provide co-op and internship opportunities to more than 500 high school and college students every year. In addition, the Consumers Energy and DTE Energy foundations collectively contribute more than $3 million annually to support youth education.
For more information regarding Careers in Energy Week and energy industry employment opportunities, please visit:
The Workforce Development Agency promotes a flexible, innovative, and effective workforce system within the State of Michigan. The WDA and the Michigan Works! system provide services to employers and job seekers to train and place skilled workers in good jobs across Michigan. For more information, visit www.michigan.gov/wda.
Testimonial
Northwest Michigan Works! is an essential resource for employers and job seekers in the Northern Michigan area.

Kathy Stuart, Michigan Rubber Products Human Resource Manager