Project to Develop Sustainable Business Model for Manistee's Ramsdell Theatre Set to Begin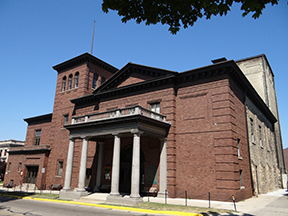 MANISTEE, MICHIGAN - Johnson Consulting, a firm that focuses on planning, market and feasibility studies and economic assessment involving civic and performing arts, has been charged by a community volunteer team to develop a sustainable business and governance model for the City of Manistee's Historic Ramsdell Theatre. The results will be an operating model for the Theatre aimed at achieving maximum community benefits and support for the core purposes of the facility that will turn around the financial viability of the operation, ideally eliminating the need for subsidy by its owner, the City of Manistee.
"The Ramsdell is part of our City's identity and has had an historic role in the development of arts and culture in northern Michigan," said interim Manistee City Manager Ben Bifoss. "But the City is in no position to continue to carry both the cost of debt that the facility has incurred as well as a large subsidy to cover operating losses. It's imperative that this project generate a strategy for the facility and the governance structure of the Theatre that will carry it to sustainability in a way that is realistic and attainable." Bifoss said the volunteer team that recommended selection of the consultant will continue to help guide the project.
The project will cost approximately $22,000 to complete, with funding raised by the Manistee County Community Foundation, the Alliance for Economic Success and the City's Ramsdell Governing Authority. The kick off date for the project will be announced soon and the project will seek involvement and participation of all community interests. The Alliance for Economic Success will facilitate the project on behalf of the City, enabling Ramsdell Executive Director Michael Terry to both participate fully in the project while managing the Theatre through the busy summer season. The project should be completed in about three months.
Charles Johnson, President and CEO of Johnson Consulting is a nationally recognized theatre and performing arts consultant. Prior to forming Johnson Consulting, he was National Director of KPMG Peat Marwick's Convention, Sports and Hospitality Consulting practice. He has worked on over 600 public assembly and urban developing consulting assignments in the U.S. Canada and abroad.
Construction to build the Ramsdell Theatre began in 1901 to provide the community with a cultural center that included a theatre and space for assembly. The facility was officially christened with a ball thrown by the Manistee Retail Clerk's Union in 1902. The facility has been restored through the generosity of philanthropy and grants to its original condition and is on the National Registry of Historic Places. The facility hosts over 200 events annually.

Questions about the project can be directed to Susan Hornkohl of the AES office at 231-723-4325.
The professionals at Networks Northwest help our City Council, Planning Commission, and staff make thoughtful decisions to ensure our community is sustainable and resilient for many years to come.
- Mark Heydlauff, Charlevoix City Manager