Pellston Receives Community Growth Grant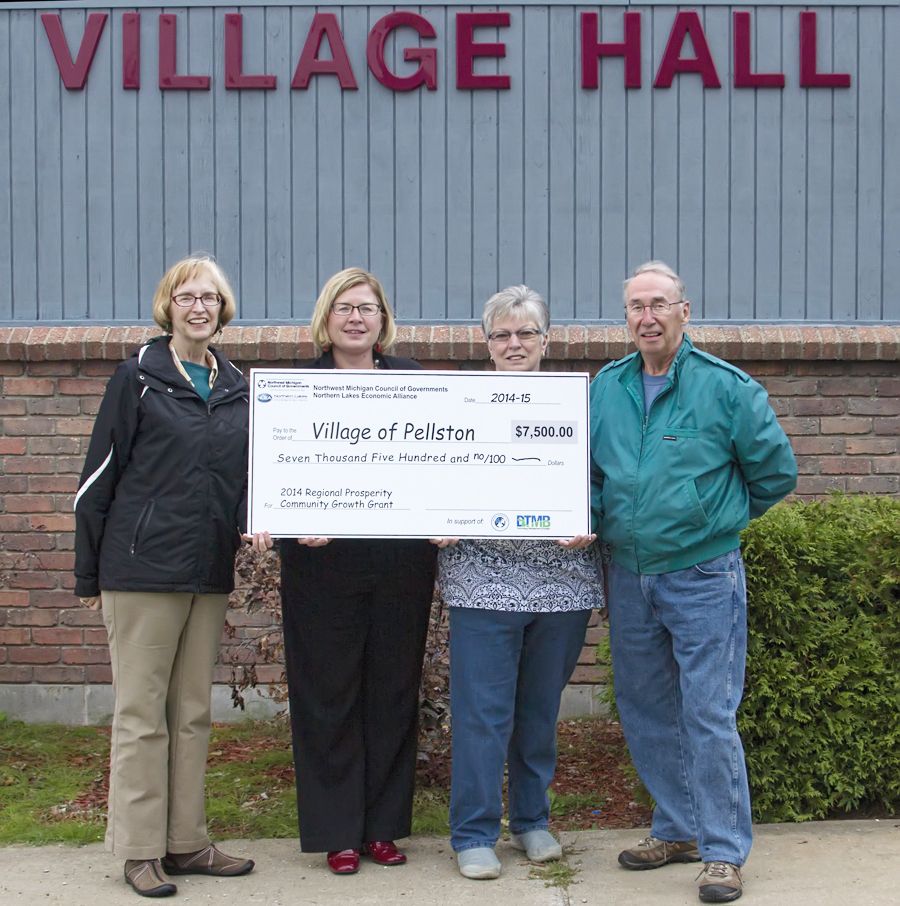 (L to R): Jan Kellogg, NLEA and Networks Northwest; Monique Dean, Superintendent of Pellston Public Schools; Jane Rose, Pellston Village
Council Member; Jim Gillett, Pellston Village President
Networks Northwest, in partnership with the Northern Lakes Economic Alliance, announced the award of a 2014 Regional Prosperity Initiative: Community Growth Grant for Pellston. The $7,500 grant award will be used to help pay for engineering design for the Village's Safe Routes to Schools program.
The Village of Pellston has been working with the local school district and the Health Department of Northwest Michigan on developing a "Safe Routes to Schools" plan for area school children. The goal of this project is to provide safe passage for students walking or biking to and from the local schools. After conducting a walking and biking audit, a plan was developed to improve pedestrian access by providing better connectivity of the sidewalks and trails within the Village. This will be achieved through the replacement of some deteriorating sidewalks, construction of new sidewalks, making street crossings accessible for the handicapped and adding signs.
Funding for these improvements will be covered by a "Safe Routes to Schools" grant from the Michigan Department of Transportation. Funding, however, does not cover the costs of engineering, which is estimated to be $23,000.
"The $7,500 Community Growth Grant will help cover these costs", said Jim Gillett, Pellston Village President, "with the remaining amount coming from the Village and school district. These funds will help to ensure the success of this important community project."
This grant program is one component of northwest Lower Michigan's response to the Governor's state-wide Regional Prosperity Initiative that was signed into law as a part of the FY 2014 budget (59 PA 2013). The Regional Prosperity Initiative's goal is to encourage local private, public and non-profit partners to create vibrant regional economies through collaboration and local decision making.
The Regional Prosperity Initiative Community Growth Grants Program is intended to strengthen the region by removing barriers and creating incentives for greater public and private sector investment in the region. Successful projects will create the conditions for sustainable and efficient growth and development by implementing strategies that are consistent with local values, community goals, and the Regional Prosperity Initiative. Grants of up to $7,500 and/or technical assistance were awarded on a competitive basis to governments within northwest Michigan.
Funding for the program is provided by a State of Michigan Regional Prosperity Initiative Grant (Michigan Department of Technology, Management, & Budget) received by Networks Northwest with support from the Northern Lakes Economic Alliance.
Related info: Networks Northwest Planning
Testimonial
Northwest Michigan Works! is an essential resource for employers and job seekers in the Northern Michigan area.

Kathy Stuart, Michigan Rubber Products Human Resource Manager