Michigan Works Recognizes Northern Michigan Businesses and Employees
Three northern Michigan businesses and two employees have received Michigan Works! Association Impact Awards. The awards recognize significant economic accomplishments within our communities and showcase the impact of newly created jobs, transformational training, and effective talent pipeline development.
Impact Awards for Grand Traverse Canvas in Traverse City and Rec Boat Holdings in Cadillac were tied to an Industrial Sewing Training program. Northwest Michigan Works! partnered with Rec Boat and Eastern Michigan University to offer the training, which helped Rec Boat retain nearly 40 incumbent workers. Grand Traverse Canvas hired Kimberly Miller after she completed the training. Miller also received an Impact Award.
"Michigan Works! provided the opportunity to expand my skill base with an introduction to industrial sewing by attending the Industrial Sewing Class," said Miller. "This has been a very good experience."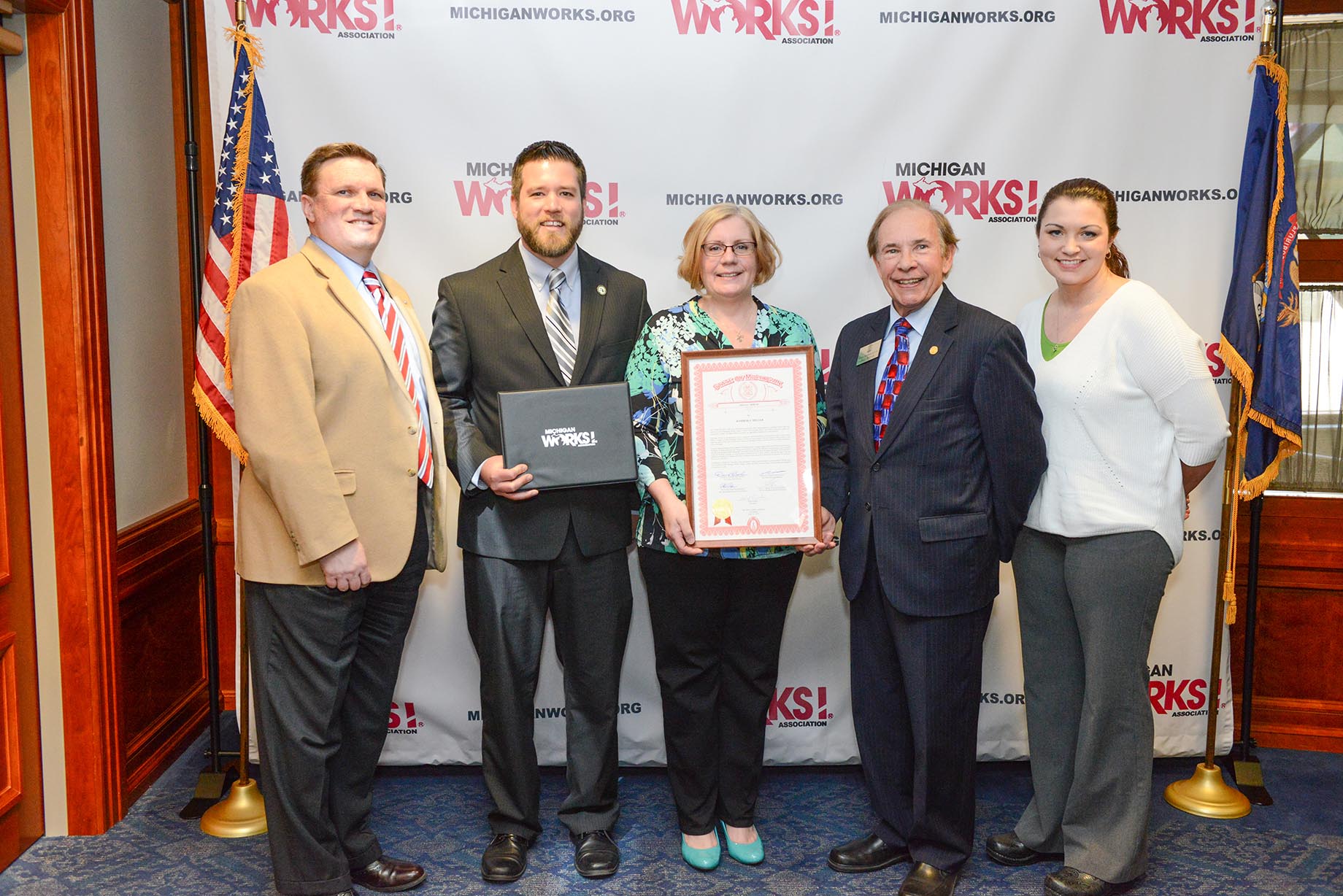 "We had a good experience partnering with Michigan Works!," said Mary Wodzien of Grand Traverse Canvas Works. "Because of their Industrial Sewing Class, we were able to hire Kimberly. She has a terrific work ethic."
"The partnership with Michigan Works! helped us greatly," said Kelly Cater, Director of Human Resources, Rec Boat Holdings. "Industrial Sewing is a lost art. It is difficult to find good employees with this skill set. We now have a pool to fill current and upcoming openings."
Brower Development and Construction in Petoskey and one of their employees also received Impact Awards. Networks Northwest and Northwest Michigan Works! nominated Brower and employee Tim Busyn for the awards after Busyn went through a welding training program paid for by a Skilled Trades Training Fund grant. Northwest Michigan Works! helped the company apply for the grant. The training was provided by the Industrial Arts Institute in Onaway.
"Tim's training has opened up doors for us to be more competitive in bidding jobs and to offer new services for clients wanting to use red iron and steel components in their home building," said Brower Development and Construction President, Ben Brower. "It's also allowed us to reduce our insurance costs. We appreciate the efforts of everyone involved that's helped us."
"Michigan Works helped me get the needed Level 1 welding certifications," said Busyn. "Even if you can't see my work on a project, whether it's in a stronger cabinet bracket or steel beam support structure, our customers sure appreciate it."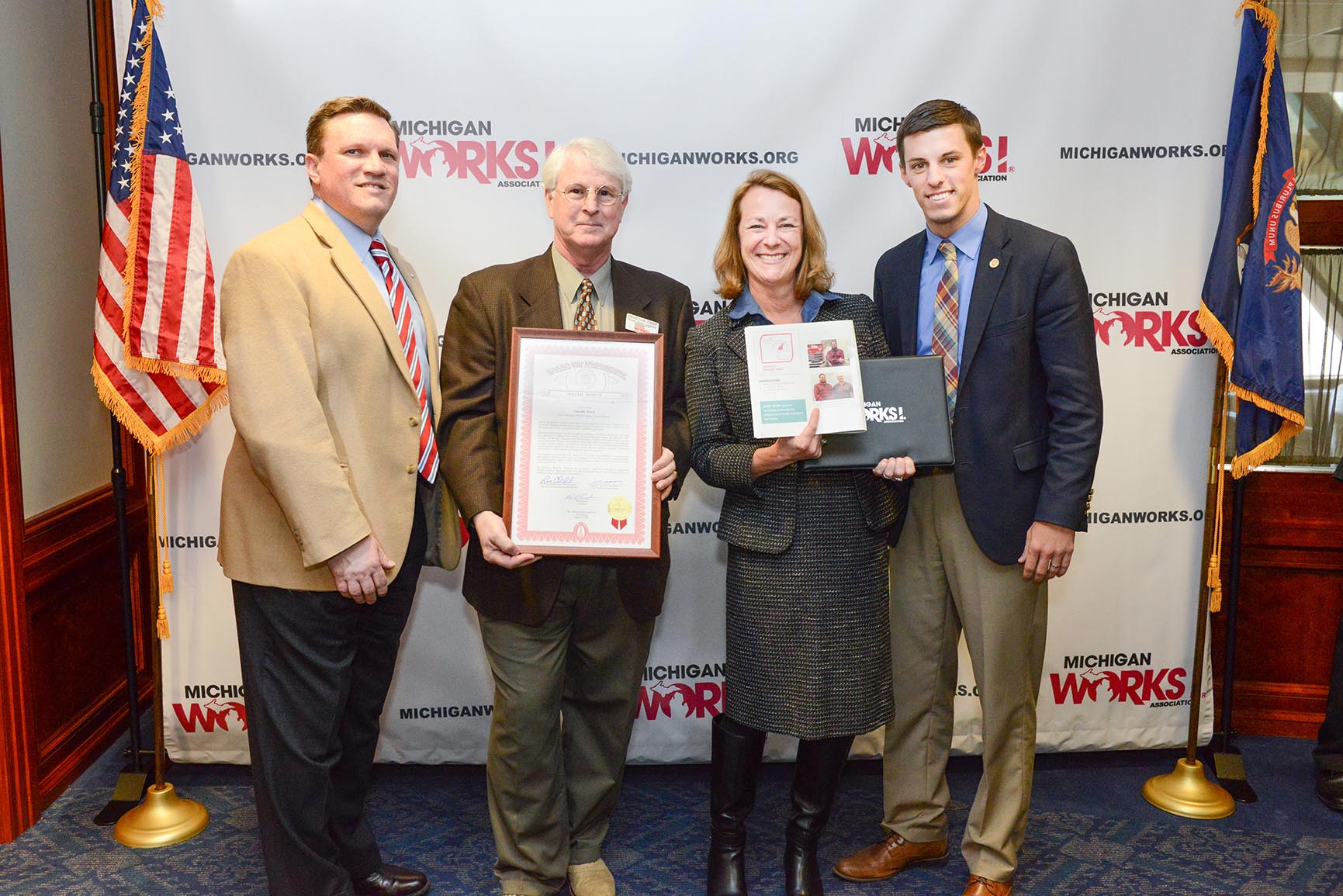 "Brower was a "first adopter" of our workforce based, intensive welder qualification program," said Georgia Abbott, Executive Director, Industrial Arts Institute. "They were willing to pilot this education with us and we learned together just how fast we can teach welding skills and get that talent and skill back into the job at hand."
The awards were presented during a special recognition event April 27 in Lansing which was attended by several of the region's state legislators.
"Michigan Works! is very active across northwest Michigan, working together with employers to find and train the workers they need to stay and grow here," said State Representative Phil Potvin (R-Cadillac). "Michigan is focused on helping meet the needs of our employers, and that partnership is producing results."
"This partnership between Michigan Works! and local employers is already making a difference in lives across the region," said State Representative Larry Inman (R-Williamsburg). "This type of innovative collaboration is sure to produce dramatic results over the long term."
Northwest Michigan Works! is an essential resource for employers and job seekers in the Northern Michigan area.
- Kathy Stuart, Michigan Rubber Products Human Resource Manager