Michigan Works! Helps Job Seeker Overcome Challenges and Start New Career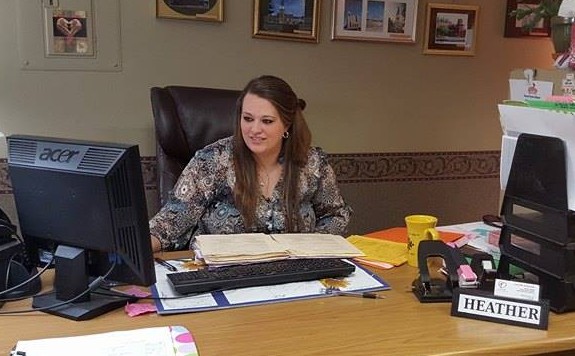 Heather Woods entered the PATH program at Northwest Michigan Works! in February of 2014 after she and her family moved back to Michigan from Florida due to income problems and a death in the family.
When she came to Michigan Works! Heather's husband was disabled, she had a five-year old child, and was expecting her second child.
Heather had been working as a direct caregiver and wanted to extend her career in healthcare. The staff at Michigan Works! helped her enroll in CNA training, funded her training, and also assisted with gas cards for transportation. Heather completed her CNA training, but after the birth of her second child family issues and health problems prevented her from working in that field.
Heather secured temporary summer employment working as a manager at the Iron Works Café in Manistee. Upon completion of her summer work she returned to Michigan Works!. Heather's PATH Career Advisor, Mary Szwed, recruited her as a volunteer to assist with light clerical duties. Heather established herself in being organized and able to work independently and was soon considered part of the Michigan Work! team in the Manistee Center. She assisted the PATH Career Advisor with workshops, helped the Manistee staff with light clerical duties, and also helped customers with their questions and résumés.
The work Heather did at Michigan Works! helped give her the experience she needed to be hired at LOVE, INC (Love in the Name of Christ) in Manistee. She was eligible for the On-the-Job training program offered through Michigan Works! which paid for part of her wages while she learned the new job. Michigan Works! also continued to assist her with funds for work clothes and gas cards for transportation as she made the transition into her new career.
"If it was not for meeting Mary Szwed, my Michigan Works! Career Advisor, I really don't know where I would be," said Heather. "She has believed in me since day one. She is an absolutely amazing person. She goes way above and beyond her job title. Without her support and encouragement I know there is no way I could have made it through some of the darkest times of my life. I am truly grateful for Michigan Works!."
Testimonial
Our Township greatly benefits from Network Northwest's experience, depth of knowledge and understanding. Because they work with so many diverse communities in our ten-county region they understand the local land-use issues and are already working on solutions by the time we realize we need some help.

Susan Odom, Chair, Suttons Bay Township Planning Commission