Local Businesses Receive More Than $700,000 for Employee Training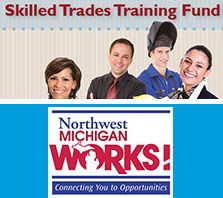 Twenty-seven Northwest Michigan businesses have received grants totaling more than $700,000 from the Michigan Skilled Trades Training Fund (STTF) for the 2016-17 fiscal year. The grants, applied for through Northwest Michigan Works!, will help the companies train new and incumbent workers in a variety of skills.
One of the largest grants in the region went to Preston Feather Building Centers in Petoskey. The company received $96,535 from the STTF to help train its entire staff with a totally new computer system.
"This funding, and the training it allows our staff, will help us be on the leading edge of more efficient processes for the benefit of the professional builders we supply products to," said Kate Scollin, Human Resources Director, Preston Feather Building Centers. "With the help of the STTF, this century-old company will bring our family-owned lumber yard into the 21st century."
Armor Express in Central Lake received a $15,000 STTF grant to train their employees. The company manufactures body armor used by law enforcement and the military.
"The training we intend to do as part of the recent grant is specifically geared to doing business with the Federal government; ensuring we are able to comply with all of the rules and regulations and that our staff is equipped to service the needs of this customer segment in particular," said Paul Hresko, Human Resource Manager, Armor Express. "With the momentum we've established in the Federal Law Enforcement market, coupled with our recent contract win to support the Department of Homeland Security, this comes at a great time for our organization."
The STTF provides competitive awards for employer responsive training that enhances talent, productivity, and employment retention while increasing the quality and competitiveness of Michigan's businesses. The grants are awarded to help ensure that Michigan's employers have the talent they need to compete and grow, and individuals have the skills they need for in-demand jobs.
More information about the STTF and a full list of the 2016-17 grant recipients is available at: nwm.org/misttf.
Testimonial
Networks Northwest always proves to be a valued resource for our local government planning efforts. No organization does a better job of convening partners, promoting collaboration, and reporting on the data than does Networks Northwest

Ty Wessell, Leelanau County Commissioner