Ellsworth Rallies Community for Crowdfunding Campaign to Transform Downtown with New Park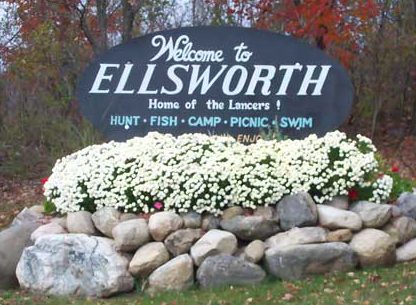 The Michigan Economic Development Corporation and the Village of Ellsworth today announced a new crowdfunding campaign through Michigan-based crowdfunding platform Patronicity. The campaign will support the activation of a vacant downtown lot into a public green space.
If the community hits its crowdfunding goal of $26,000 by August 31, MEDC will provide a $26,000 matching grant with funds made possible by the Public Spaces Community Places program. For project details and to donate, please visit: www.Patronicity.com/Ellsworth
In December, 2011, the building that occupied the now vacant lot burned down, deemed a complete loss. The fire revealed an opportune location for a new town square located next to the Township Hall.
"Public Spaces Community Places is a good resource for communities to restore or activate public spaces," said MEDC Community Development Director Katharine Czarnecki. "We are pleased to be able to partner in this effort to transform a vacant lot into a community gathering place for residents and visitors."
Money raised through the crowdfunding campaign will go toward phase one of the public park project. This includes site preparation and grading, installation of utilities, tearing down an old garage structure and landscaping. Once completed, the park will also include public restrooms and an open air pavilion.
"Now is the time for all those persons who have wanted something done with that corner to step forward and make the dream a reality," said Village President Hugh Campbell. "We really appreciate the community coming out to help us with this project. This park will be a community asset that will be around for generations of citizens to enjoy, and we really couldn't do it without the support of the community and MEDC."
The total cost for phase one is approximately $67,000. The Village of Ellsworth and Banks Township have already pledged a combined total of $15,000, with the crowdfunding campaign meeting the remaining amount.
Public Spaces Community Places is a collaborative effort of the MEDC, the Michigan Municipal League, and Patronicity where local residents can use crowdfunding to be part of the development of strategic projects in their communities and be backed with a matching grant from MEDC. Communities, non-profits and other business entities can apply at https://patronicity.com/puremichigan.
Pure Michigan is a brand representing business, talent and tourism initiatives across Michigan. These efforts are driven by the Michigan Economic Development Corporation, which serves as the state's marketing arm and lead advocate for business growth, jobs and opportunity with a focus on helping grow Michigan's economy.
For more on the MEDC and its initiatives, visit michiganbusiness.org. For Michigan travel news, updates and information, visit michigan.org. Michigan residents interested in seeking employment with any of Michigan's growing companies should check mitalent.org, where more than 94,000 jobs are currently available in a variety of industries.
Northwest Michigan Works! is an essential resource for employers and job seekers in the Northern Michigan area.
- Kathy Stuart, Michigan Rubber Products Human Resource Manager