Cybersecurity Workshop Focuses on Making Business Information More Secure
A cybersecurity workshop in Traverse City will help businesses learn how to make their information and data more secure. The workshop "How Hackable Are You?" will be held November 4 from 8:30 a.m. to 12:00 p.m. at the Hagerty Center, 715 East Front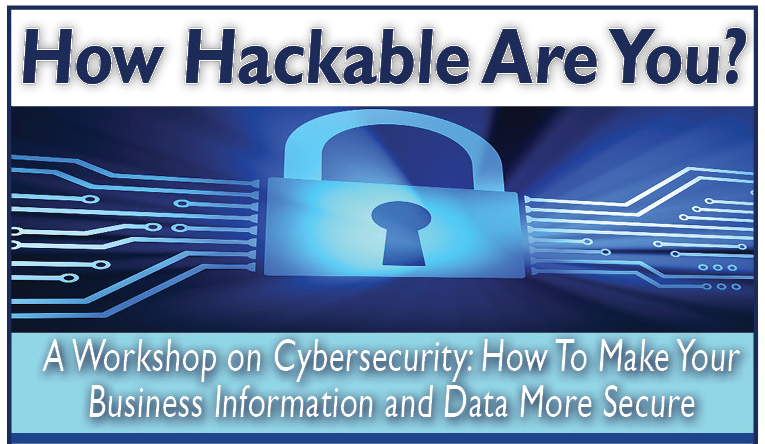 Street. The workshop is being hosted by the Employer Training Council (ETC) and the Northwest Michigan Small Business Development Center (SBDC).
Featured experts at the workshop will be Trent Carpenter, CISSP, Thys DeBruyn, and Brian J. McGinnis, J.D. Carpenter is the Chief Information Officer for Sparrow Health Systems and will discuss cybersecurity threats and managing cyber risks. DeBruyn is President of ADVANCE Resources and Consulting, which helps companies protect their technology and intellectual property. He will talk about the human factor of cyberattacks and preventing network intrusion. McGinnis is an attorney with Barnes and Thornburg LLP. He will discuss intellectual property, the Internet, and data security liability.
Registration is $50 per person and includes the workshop, materials, and a light breakfast. Check in and breakfast run from 8:00 a.m. to 8:30 a.m. You can get more information and register online at: networksnorthwest.org/etc.
The Employer Training Council, a nonprofit council made up of public and private industry, is committed to identifying key workforce issues and offering solutions to community businesses through training and workshops. Members and sponsors include: Human Resource Partners, TBA Credit Union, The Plascon Group, Northwest Michigan Works!, Northwest Michigan Small Business Development Center, Benzie County Chamber of Commerce, and Networks Northwest.
Testimonial
The professionals at Networks Northwest help our City Council, Planning Commission, and staff make thoughtful decisions to ensure our community is sustainable and resilient for many years to come.

Mark Heydlauff, Charlevoix City Manager