Benzie County Asking For Input on Recreation
Benzie County is looking for public input to help update the County's Recreation and Cultural Master Plan. The new Recreation Plan will review existing recreation facilities in the County, discuss community-identified recreation needs, and make recommendations for future recreation improvements and activities.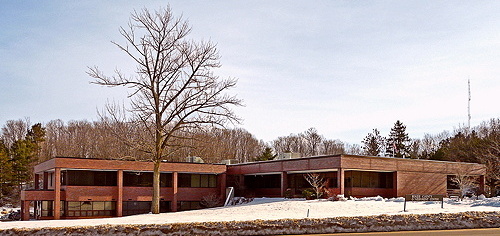 Benzie County Government Center
The Recreation Plan is being prepared as a revision of the existing 2008 Benzie County Recreation and Cultural Master Plan, which is taking place as part of the update to the 2000 Benzie County Master Plan. For the recreation and cultural plan update, the Benzie County Master Plan Committee will seek input from Benzie County residents, property owners, and visitors on recreation and cultural needs and goals through an online questionnaire.
"Learning public opinions about existing parks, and about what's needed for future parks, is a critical part of recreation planning," said Sarah Lucas, Networks Northwest Regional Planning Department Manager. "Any future recreation initiatives should be done in response to public needs and preferences, and knowing what the public thinks about recreation will help the County and local units of government set priorities for park improvements or expansions, budgeting, and grant applications."
Online or Hard Copy Questionaire:
Benzie County Recreation and Cultural Questionnaire is now available online.
To receive a hard copy, please contact Networks Northwest or Benzie County.
All surveys must be submitted by January 14.
This planning process is overseen by the Benzie County Parks and Recreation Commission, the Planning Commission, and a Master Plan Update Committee. Membership on the Committee includes County, city, village, and township governments, as well as business, agricultural, education, natural resource, arts, recreation and health sector representatives. Assistance in developing the plan is being provided by Networks Northwest.
The plan will be developed to meet Michigan Department of Natural Resources (MDNR) requirements for recreation plans, which are required in order to be eligible for recreation grants through the MDNR. The updated Recreation and Cultural Plan will allow the County and local units of government to apply for recreation grants.
For questions and comments about the Recreation and Cultural Plan, or to receive a hard copy of the Recreation and Cultural Questionnaire please contact:
Karl Sparks
Benzie County Administrator
231-882-0558
ksparks@benzieco.net
Sarah Lucas, Regional Planning Department Manager
Elizabeth Calcutt, Assistant Planner
Networks Northwest
231-929-5000
sarahlucas@networksnorthwest.org
elizabethcalcutt@networksnorthwest.org

Testimonial
Networks Northwest always proves to be a valued resource for our local government planning efforts. No organization does a better job of convening partners, promoting collaboration, and reporting on the data than does Networks Northwest

Ty Wessell, Leelanau County Commissioner