Benzie Bus and Senator Booher to Celebrate Transportation Month at Commuter Breakfast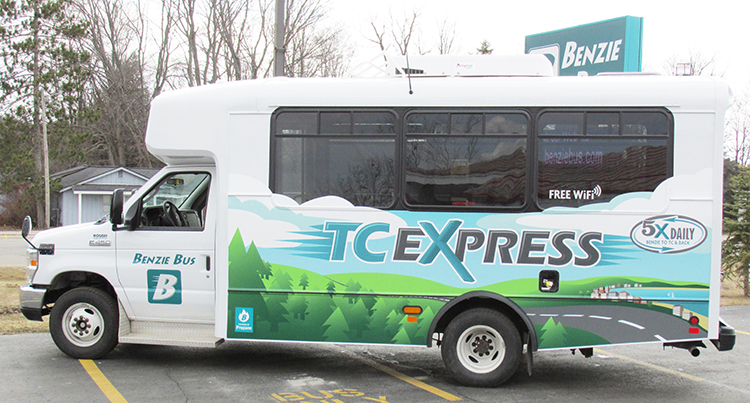 A new bus route, Michigan's Proposal 1, and the state's new roadkill law will all be on the menu at a special Transportation Month Commuter Breakfast Monday, May 4 in Beulah. The breakfast is being hosted by Benzie Bus and State Senator Darwin Booher from 6:00 a.m. to 10:00 a.m. at Benzie Transportation, 14150 US 31. The event will feature details of the new Benzie Bus TC Express route, objective information about Michigan Proposal 1, an update on the new Michigan roadkill law Booher helped create, and some unique roadkill inspired breakfast items.
"Breakfast with Booher sounded like a fun way to draw attention to our services, educate people about the roadkill law, and remind folks about voting the following day," said Bill Kennis Executive Director of the Benzie Transportation Authority.
The new Benzie Bus TC Express Route (TC X) will connect Benzie County to Bay Area Transportation Authority (BATA) routes in downtown Traverse City to help create more efficient commuter options. The route is scheduled to depart from Frankfort five times a day with the first bus at 6:00 a.m. and the last at 6:30 p.m. The route will connect through Beulah, Honor, Lake Ann and into BATA's downtown Traverse City Hall Street station. There will be departures from Hall Street every three hours between 7:40 a.m. and 7:40 p.m. The TC X shuttle features a dedicated new commuter bus and includes free Wi-Fi.
"We currently have about 400 riders each month commuting to schools, businesses, and connecting with BATA at Munson Medical Center and Meijer," said Kennis. "Connecting to Hall Street is a natural progression toward more efficient public transit options."
Benzie Bus completed an 8-month needs assessment study that affirmed that nearly 2,000 workers commute outside Benzie County, primarily to Grand Traverse County. It also showed the need to reduce traffic by offering riders the opportunity to link with BATA's system from its Hall Street Transfer Station.
To ride the TC Express call Benzie Bus at 231-325-3000, email dispatch@benziebus.com, text "benziebus" to 55000, or visit the bus system online at BenzieBus.com.
Related info: Transit in Northwest Michigan | Proposal 1 Overview
Testimonial
The professionals at Networks Northwest help our City Council, Planning Commission, and staff make thoughtful decisions to ensure our community is sustainable and resilient for many years to come.

Mark Heydlauff, Charlevoix City Manager