Seasonal Population
Visitors to a region can economically, socially and physically impact its communities through increased demand for public and private goods and services, as well as through additional stress on the natural environment and physical infrastructure. They affect traffic, real estate prices, retail sales, crime, littering and pollution, and local employment, as well as the use of public transit, medical and emergency services, recreational facilities, utilities and public spaces.
Having an accurate estimate of the population within a geographic area is important for a variety of reasons. In regions that have a substantial seasonal population with large variations throughout the year, like Northwest Michigan, this population estimate becomes even more critical and, at the same time, more difficult to assess. It is more critical because a large part of the economy in these counties is driven by seasonal residents and tourists who are attracted to the area's pristine land and water assets and recreational opportunities. It is more difficult because most of the current reporting structures for collecting population information are not geared toward identifying seasonal population differences.

Northwest Michigan Seasonal Population Analysis
The purpose of the Northwest Michigan Seasonal Population Analysis is to provide a reasonably accurate estimate of the 2012 seasonal population—that is, the number of permanent, seasonal and transient residents by calendar month—for the Northwest Michigan counties of Antrim, Benzie, Charlevoix, Emmet, Grand Traverse, Kalkaska, Leelanau, Manistee, Missaukee and Wexford Counties.
The Northwest Michigan Seasonal Population Study was conducted as part of the Northwest Michigan Regional Prosperity Initiative and the Framework for Our Future: A Regional Prosperity Plan for Northwest Michigan, which was undertaken as part of Michigan's Regional Prosperity Initiative, as initiated by Governor Rick Snyder and signed into law as a part of the FY 2014 budget.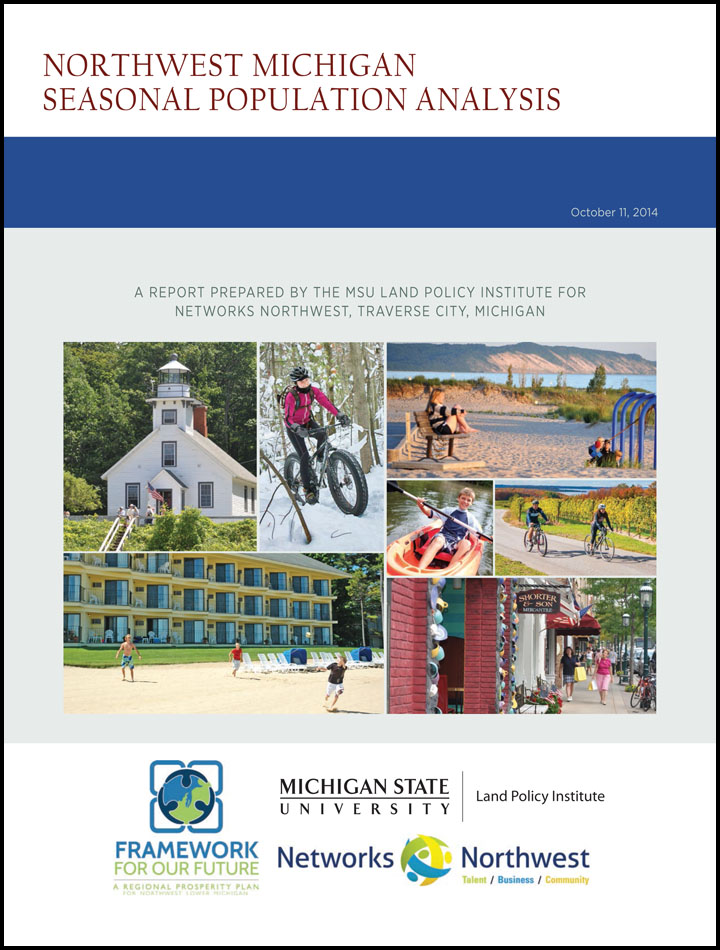 Testimonial
Our Township greatly benefits from Network Northwest's experience, depth of knowledge and understanding. Because they work with so many diverse communities in our ten-county region they understand the local land-use issues and are already working on solutions by the time we realize we need some help.

Susan Odom, Chair, Suttons Bay Township Planning Commission