Comprehensive Economic Development Strategy (CEDS)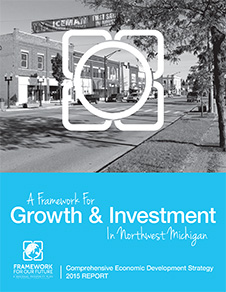 A Comprehensive Economic Development Strategy (CEDS) for Northwest Michigan is the result of a local planning process designed to guide the economic growth of the region through the identification of strategies and projects. The Northwest Michigan Council of Governments is designated by the U.S. Department of Commerce - Economic Development Administration (EDA) and the State of Michigan to lead the CEDS process on behalf of the region. The CEDS is an inclusive process that culminates in the creation of a multi-year plan (typically looking 5-10 years into the future) on a regular basis.
The CEDS is a planning process that takes place throughout the year in conjunction with broad-based and diverse community participation from public and private sectors. The strategy document contains regional economic analysis, goals and objectives for regional prosperity, and a plan of action, including a list of economic development projects to implement the goals and objectives. The CEDS is also an excellent resource to facilitate coordination and to assess the many economic development activities in the ten-county region (Region 2).
For more information about the region's economic development strategy, please contact Matt McCauley at: Contact Form or 231-929-5000.

---
View/download/print
---
Economic Development Projects
Periodically, Networks Northwest submits a project listing to the US Department of Commerce - Economic Development Administration (EDA) as part of the region's Comprehensive Economic Development Strategy (CEDS).
Projects must be listed in the region's CEDS to qualify for EDA funding in the coming year. Having your project listed in the CEDS does not constitute an application or assurance of funding, but it is a pre-requisite for consideration of funding.

CEDS & Framework for Our Future Regional Prosperity Plan 2015 Project List
The Economic Development Administration's (EDA) Comprehensive Economic Development Strategy (CEDS) process inventories all economic-development related projects in Antrim, Benzie, Charlevoix, Emmet, Grand Traverse, Kalkaska, Leelanau, Manistee, Missaukee, and Wexford counties, through the annual development of a Project List that identifies projects that may be eligible for EDA funding or other related funding programs.
The 2015 Project List expands upon the annual process to include the Regional Prosperity Initiative and the Framework for Our Future: A Regional Prosperity Plan for Northwest Michigan. A wide range of locally-driven activities and projects, from planning initiatives to new housing construction to the development of business incubators or food innovation districts, can help to implement the community-identified goals included in the Framework for Our Future.
To ensure that local projects are eligible for state and federal funding, the CEDS and Framework for Our Future project list will identify projects, as submitted by community partners, that have regional impacts on Northwest Michigan's transportation, housing, economy, arts and culture, recreation, food and farming, natural resources, and talent assets.
If you have any questions or would like to submit a project by mail or email, please contact:
Matt McCauley, Networks Northwest
Contact Form

For more information on the Framework for Our Future or the Regional Prosperity Initiative, please visit www.networksnorthwest.org/rpi
Testimonial
The professionals at Networks Northwest help our City Council, Planning Commission, and staff make thoughtful decisions to ensure our community is sustainable and resilient for many years to come.

Mark Heydlauff, Charlevoix City Manager