US-131 Corridor Economic Strategy
In Northwest Lower Michigan, communities along the US-131 corridor (Cadillac, Manton, Fife Lake, South Boardman, Kalkaska, Mancelona, Alba, Boyne Falls, Walloon Lake, and Petoskey) share a number of characteristics: many communities along this corridor struggle with issues such as higher poverty rates, unemployment, and lower quality housing stock. At the same time, they are uniquely positioned for high-impact economic development efforts based on the availability of broadband, highway, rail, trails, and outdoor recreation.
A collaborative economic development effort can help identify corridor-wide assets and opportunities that will create the conditions for economic prosperity along and beyond the US-131 corridor, while providing a platform that allows communities to work together on the corridor's most important issues.
The project began in April of 2015, with activities being substantially complete by November 2015.
US-131 Corridor Community Study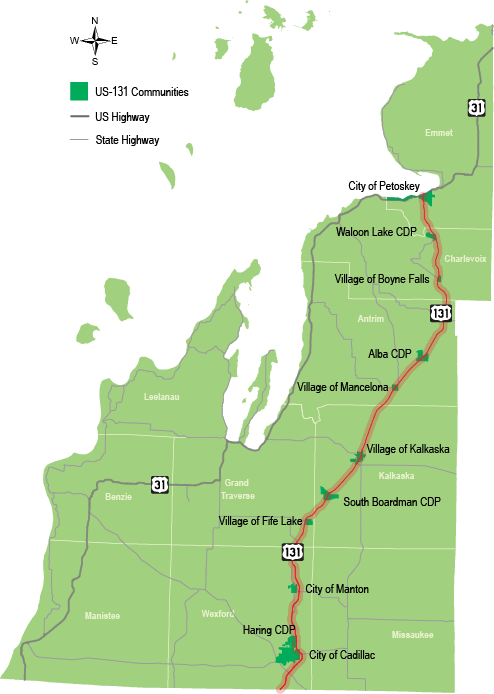 In order to gauge how US-131 communities are growing, attracting economic activity, and putting in place policies that maximize potentials, Networks Northwest conducted studies of Growth & Investment Areas (G&I Areas) and their associated Commercial Corridors, with the assistance of the State of Michigan Regional Prosperity Initiative (RPI) and the Partnership for Sustainable Communities, a cooperative program of the U.S. Department of Housing and Urban Development (HUD), the U.S. Department of Transportation (DOT), and the U.S. Environmental Protection Agency (EPA). Data was collected from a variety of public and commercial providers, and interviews of local public officials, which were synthesized into this preliminary report. As a component of the US-131 Corridor Economic Strategy all the communities in the study area not already inventoried will be invited to participate in Commercial Corridor Inventories of their communities for inclusion in the final report.

Public Surveys About the US-131 Corridor
Testimonial
Northwest Michigan Works! is an essential resource for employers and job seekers in the Northern Michigan area.

Kathy Stuart, Michigan Rubber Products Human Resource Manager