Auto & Diesel Career Fair - April 15th in Traverse City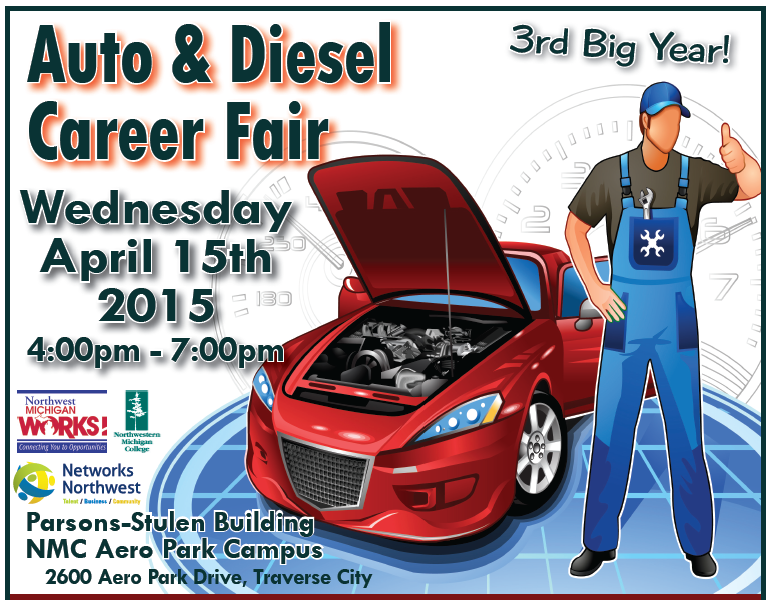 Auto & Diesel Career Fair 2015
Wednesday, April 15, 2015
4:00 p.m. to 7:00 p.m.
Parsons-Stulen Building
NMC Aeropark Campus
2600 Aero Park Drive, Traverse City
The Auto & Diesel Career Fair is being held on Wednesday, April 15, 2015 at the Parsons-Stulen Building in Traverse City at the NMC Aero Park Campus. In its third year, the event showcases industry workers, employers, and equipment, while providing ample opportunity for networking and job interviews. The Career Fair brings veterans in the field, employers, and techs together and showcases up-and-coming student techs from area auto tech programs.
Other benefits:
See new equipment, gadgets, and gear
Learn about training programs
Explore career opportunities--meet recruiters
Network with local techs and business employers
Free appetizers
Tool give-aways and discounts
Door prizes
Free admission

View event flier.
(view, download, print)
Exhibitors this year include:
---
Optional Pre-Registration & Submission of Résumé
>> Click to Pre-Register for this event to help us better serve you!
For priority consideration, submit your professional résumé to sharongordon@networksnorthwest.org by April 9, 2015. Résumés received will be vetted and forwarded to appropriate employers prior to event.

If you do not have an account on Pure Michigan Talent Connect (mitalent.org), please consider creating one. It's a free job board that is used by many employers to find job candidates. If you are serious about your job search, consider posting your résumé on as many job boards as you can.
Job Seeker Special Preparatory Instructions:
---
The Auto Diesel Career Fair is sponsored by:
See Why This Event Is So Beneficial
From the 2014 Auto & Diesel Technicians Night
Auto and diesel technicians and people interested in entering that field had an opportunity to talk shop with other techs, meet potential employers, and learn about education and training opportunities at an Auto and Diesel Technicians Night in Traverse City. This was the second year for the event which was hosted by the Networks Northwest, Northwest Michigan Works, and Northwestern Michigan College. Watch the video to find out more.
From the 2013 Auto & Diesel Technicians Night
Auto and diesel technicians had a chance to talk shop and learn about job and training opportunities at an Auto and Diesel Technicians Night in Traverse City. The event also gave local employers an opportunity to showcase their businesses and meet potential employees. Watch the video to find out more.
Sean Nigh is a student in the Automotive Technology program at Northwestern Michigan College (NMC) and hopes to find a job as an automotive technician in the Traverse City area after he graduates. That is why he attended an Auto and Diesel Technicians Night hosted by the Northwest Michigan Council of Governments (NWMCOG), Northwest Michigan Works!, and NMC.
"This gives me a chance to see who's hiring so when I get my degree I know who I can look up first to apply for a job," said Nigh.
Glenn Chickas was also at the event. He is considering a career as an auto or diesel technician and was looking for information about training and certification.
"Anywhere you go now they're looking for certified," said Chickas. "There aren't many backyard mechanics anymore that are able to make a living."
Besides giving individuals like Chickas and Nigh an opportunity to meet local employers and training providers, the event also gave technicians already working in the auto and diesel field a chance to talk shop and learn about new career and training opportunities.
"Throughout the year technicians really don't get a chance to interact with each other or employers other than at training events," said Wayne Moody, the program coordinator for Automotive Service Technology at NMC. "Hopefully between the two different sides of the industry there will be some opportunities to make some good contacts here."
While making good contacts is important for job seekers and people interested in training programs, it is also important for local employers who sometimes have a difficult time finding skilled auto and diesel technicians.
"This really is a time of change for this industry," said Moody. "To find a guy that has both the old mechanical skills and the new high tech skills that's tough to find."
"We find that there's really not a lot of local men and women entering these positions," said Rich King, the fixed operations director at the Bill Marsh Automotive Group. "We're having to travel further and further away to find those people so having an event like this in our backyard is just outstanding."
Related Info: Job Seeker Services | Business Services