Traverse Bay PRI
Welcome to TraverseBayPRI.org

"Bringing the power of our collective knowledge and energy together to prevent and reduce poverty by Inspiring, Advocating, and Connecting through convening and incubation."
Inspiring • Advocating • Connecting
The Traverse Bay Poverty Reduction Initiative (PRI) is a community-driven, collaborative effort to reduce poverty in the Traverse Bay region. The program was born out of the Poverty Summit, held in February 2004, in which 225 area residents joined together to address the issue of poverty in our area. Poverty Reduction Initiative consists of representatives from local businesses, public and government agencies, and concerned citizens. Working subcommittees focus on five strategic directions: Navigators, Mentoring, Education, Advocacy, and Communications.
Join Our Email Newsletter
---
Come lend your expertise and perspective as PRI works to reduce poverty in the Traverse Bay region.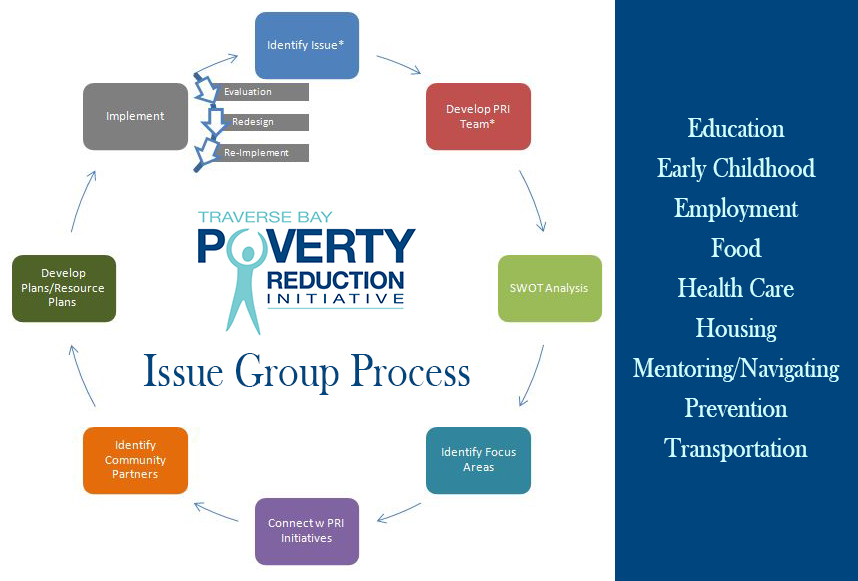 Here is an early look at the Issue Group Process
which is under consideration at the monthly
Steering Committee meetings.
View meeting notes, agendas, and support materials

Some PRI Activities